eStore is a WordPress shop theme that helps transform your blog into a fully functional online store. It doesn't offer its own shopping cart, but instead, keeps itself open for integration with already-popular ecommerce plugins. But don't worry, we make it really easy to integrate certain plugins. In fact, if you choose to use one of the our pre-integrated plugins, no additional setup is required. If you have been looking for an easy way to bring your business online, then look no further. For more info be sure to check out the Live Demo as well as the Features Page. By the way, we have collected a lot of WordPress themes you can use to set up an online shop here.

Disclosure: Please note that some of the links below are affiliate links and I will earn a commission if you purchase through those links (at no extra cost to you). I recommend that you do your own independent research before purchasing any product or service. This article is not a guideline, a recommendation or endorsement of specific products.
Advertisement
Ecommerce Integration – Instead of developing our own shopping cart system, or building the WordPress shop theme to work around a single plugin, we tried to keep the theme as open as possible so that it would be compatible with a wider array of plugins (and therefore satisfy the needs of a wider audience). We have also done some pre-integration work for two popular plugins: eShop and Simple PayPal Shopping Cart. If you choose to use either of this plugins, they will work with the theme flawlessly and will require no additional setup. Simple PayPal Shopping cart is extremely simple to use, but does not offer the same selection of features that eShop does. I think the functionality provided by each should satisfy every user.
Ecommerce Theme Settings – The WordPress shop theme makes it easy to add products. Each product is powered by a normal WordPress post. When you make a post you will notice that a new set of options has been added below the text editor. These options are used to add your product's price, thumbnails, special offer bands and more.
E-commerce page templates – This WordPress shop theme provides some really nice cart, product pages and product category list page templates that I believe will be great for conversion. The cart look good and it is also is integrated into the sidebar.
This is the product page and it really presents the product in a professional and tempting way!
Product category list page.
Alternate Color schemes – eStore WordPress shop theme comes with 5 different colors. If the default style is not to your liking, then you might consider the Red, Blue, Green or Silver variations.
Elegant Themes Standard Theme Features also available in eStore
Beautiful and elegant design aren't the only things that makes a WordPress theme great. Ease of use and customization is more important and this is where Elegant Themes have put in a huge effort to make sure their themes are among the best.
Outstanding theme options
The options panel in Elegant Themes is over the top! They created a very user friendly and extremely solution giving you almost unlimited flexibility without the need for coding. I recommend you check out this video to see it in action.
Shortcodes
Designing and organizing your posts will be much easier with the shortcodes provided in all the Elegant Themes. Shortcodes is seen in more and more premium themes and of cause you also get a huge library with these themes. This will greatly improve the functionality and variety of your content without the frustration that comes with learning advanced web development techniques.
Page Templates
Page templates are expected in good themes as they make your life easier by giving you access to pre-made styles and functions. Each template can be applied to an individual page, transforming the way it looks and functions to create additional and unique forms of content. eStore have a unique WordPress shop theme related page templates as you can see below and it is really useful when you build up your site.
Complete Localization
The themes have been localized for easy translation. Included with each theme are sets of .mo and .po files that can be used to translate the theme, which means you wont have to spend hours searching through PHP files for English words.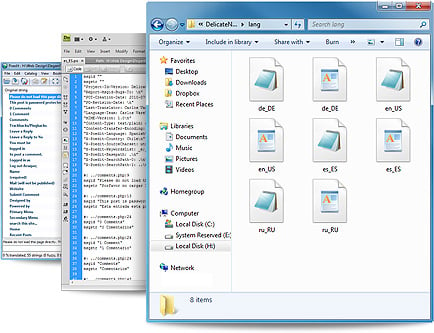 Make sure you to check out the Live Demo as well as the Features Page.