LeanBiz is a great business WordPress theme – really it is a lean, mean, business theme. Its layout is simple and professional and the homepage is sleek and to-the-point. The beautiful homepage slider creates a clear call to action and allows for countless slide variations. ElegantThemes has a goal with this theme to remove as much fluff from the homepage as possible. The result is a clean, slider-based design that presents your visitors with a few select pieces of information. For most small businesses, this is an ideal structure. For more info, be sure to check out the Live Preview as well as the Features Page or read on bleow.

Disclosure: Please note that some of the links below are affiliate links and I will earn a commission if you purchase through those links (at no extra cost to you). I recommend that you do your own independent research before purchasing any product or service. This article is not a guideline, a recommendation or endorsement of specific products.
Advertisement
Lets start with a look at the front page of LeanBiz Business WordPress theme. As you can see it is a very minimalistic and clean layout and it is perfect for a serious business site.

Versatile Homepage Slider – The homepage slider is the standout feature of LeanBiz. The slider is full width and it blends perfectly into the design. Also it has a really cool movement when images slide.
With 8 different slider variatons to choose from, creating a unique and interesting homepage is quick and easy. The slider makes it simple to add transparent PNG images, bordered image, videos, text-only slides and to align them in various fashions. You can also create a unique title, description and button text for each slide. The slider also allows for variable heights, allowing you to add any length of content to each slide.
Five really great looking portfolio page templates – there are portfolio templates for most designs you may come up with and they are simply selected as page templates in the WordPress backend when a page is created.
Cool blog template – Even though LeanBiz is a CMS style  it has a unique and pretty cool blog layout. It is probably the best WordPress theme made by ElegantThemes.
Four Unique Colorschemes – LeanBiz comes with four different colors, including Grey, Blue, Green and Purple. You can easily switch between these different styles from within the ePanel Theme Options page.
Elegant Themes Standard Theme Features also available in LeanBiz
Beautiful and elegant design aren't the only things that makes a WordPress theme great. Ease of use and customization is more important and this is where Elegant Themes have put in a huge effort to make sure their themes are among the best.
Outstanding theme options
The options panel in elegant themes is over the top! They created a very user friendly and extremely solution giving you almost unlimited flexibility without the need for coding. I recommend you check out this video to see it in action.
Shortcodes
Designing and organizing your posts will be much easier with the shortcodes provided in all the Elegant Themes. Shortcodes is seen in more and more premium themes and of cause you also get a huge library with these themes. This will greatly improve the functionality and variety of your content without the frustration that comes with learning advanced web development techniques.
Page Templates
Page templates are expected in good themes as they make your life easier by giving you access to pre-made styles and functions. Each template can be applied to an individual page, transforming the way it looks and functions to create additional and unique forms of content. LeanBiz have a lot of unique page templates as you can see below and it is really useful when you build up your site.
Complete Localization
The themes have been localized for easy translation. Included with each theme are sets of .mo and .po files that can be used to translate the theme, which means you wont have to spend hours searching through PHP files for English words.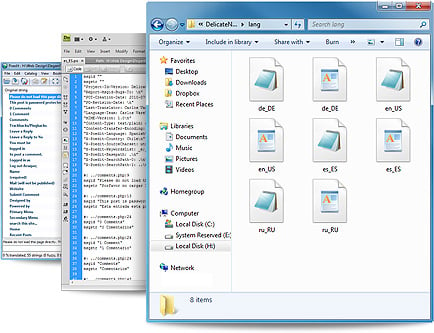 Again be sure to check out the Live Preview as well as the Features Page.