Elegant Themes is one of my favorite WordPress Theme designers. They have an approach  to offering a theme club that is unlike anything else I have seen so far. While most of the really professional theme developers charge $70-$150 per theme Elegant Themes offer a club with currently 55 of the best themes available onlie for only $39 per year. They Up to 3 themes are added every month and you can use them on as many of your own sites as you like. If you are a web designer you can upgrade your membership making a one time payment of $89 and then you can use the themes in client deliveries. This is pretty awesome I think and seriously I think their themes cover most of the needs you will run into both as a individual and as a web designer. Elegant Themes created themes with a great look and feel for a long time but recently they have also created themes that add new functionality e.g. event calendar, coming soon page. Lets check out some of their themes. I'm sure you will realize that there are themes for nearly any situation you may run into…
Disclosure: Please note that some of the links below are affiliate links and I will earn a commission if you purchase through those links (at no extra cost to you). I recommend that you do your own independent research before purchasing any product or service. This article is not a guideline, a recommendation or endorsement of specific products.
Advertisement
Browsing their themes is easy and the presentation you get for each themes makes it easy to pick the right one for your needs.
Elegant Themes Standard Theme Features
Beautiful and elegant design aren't the only things that makes a WordPress theme great. Ease of use and customization is more important and this is where Elegant Themes have put in a huge effort to make sure their themes are among the best.
Outstanding theme options
The options panel in elegant themes is over the top! They created a very user friendly and extremely solution giving you almost unlimited flexibility without the need for coding. I recommend you check out this video to see it in action.
Shortcodes
Designing and organizing your posts will be much easier with the shortcodes provided in all the Elegant Themes. Shortcodes is seen in more and more premium themes and of cause you also get a huge library with these themes. This will greatly improve the functionality and variety of your content without the frustration that comes with learning advanced web development techniques.
Page Templates
Elegant Themes Page templates are expected in good themes as they make your life easier by giving you access to pre-made styles and functions. Each template can be applied to an individual page, transforming the way it looks and functions to create additional and unique forms of content.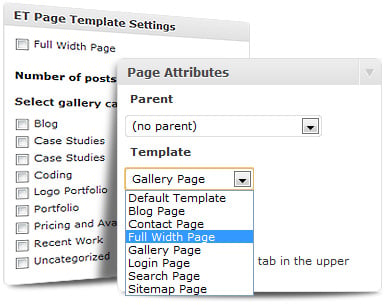 Complete Localization
The themes have been localized for easy translation. Included with each theme are sets of .mo and .po files that can be used to translate the theme, which means you wont have to spend hours searching through PHP files for English words.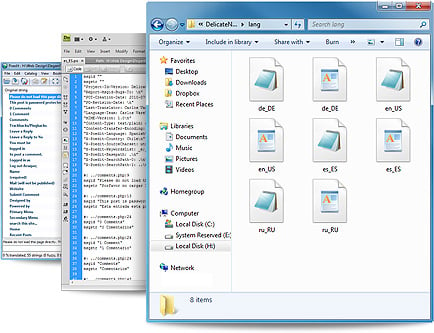 AskIt is perhaps the most advanced theme Elegant Themes have created, and effectively transforms your blog into a fully functional question and answer site (like WP-Answers we reviewed some time ago). AskIt allows your visitors to post their questions and have them answered by fellow members. Any visitor can post answers to these questions which are then voted on by the community until a "correct" answer is chosen by the question author. This is a cool theme and I'm surprised it is just given away as part of their cheap club membership…
Nova is a sharp, simplistic design that makes for an intuitive user experience. Nova's biggest strength is its homepage, which allows you to organize your content into two areas. The Featured Slider is perhaps the most versatile slider we have built, and comes with multiple slider variations that breath new life into the design. This is an interesting offer from Elegant Themes.
MyProduct is a great theme for businesses looking to promote their products and services online. The design has a smooth and corporate feel, and the theme's page-based design makes for a powerful and versatile template. Help bring your business to the next level today by establishing a professional online presence.
Event is a versatile theme that allows you to transform your blog into an events website. Past and future events are managed with ease from within the WordPress dashboard, and are displayed on the homepage in an intuitive and interactive calendar.

Elegant Themes goal with TheProfessional was to create a sleek and simple design without all of the extra features on the homepage that some people have no need for. This layout will be very easy for your visitors to understand and navigate. The three short blurbs on the homepage are easy to take in and the prominent slider provides a clear call to action.
Now you can display loads of content in a beautifully simple and elegant fashion using Magnificent. Featuring a four-column homepage with 5 widget ready areas, you have many opportunities to customize your content display. The theme also features seven different color schemes, which means there is surely a style that will suite your needs.
Now you can turn your WordPress blog into a fully functional online photo gallery while still maintaining all of the features of a normal blog. Along with the gallery layout, DeepFocus comes with a robust blog and CMS-style homepage as well, making it an amazing solution for artists/photographers looking to build an online presence.
eStore provides an elegant solution for those looking to sell products online. The theme is easy to configure, and offers integration options with some of the most popular (and free) ecommerce plugins, including eShop and Simple PayPal Shopping cart. Also, due to the open-ended nature of the design, adding support for additional shopping carts won't cause a headache. If you are ready to bring your business online, then get started today with eStore!
With the popularity of mobile applications increasing, more and more people are looking for an easy way to create an online home for their software. MyApp was created to make it easy to publish and promote your app, and has been tailored specifically for the mobile market.
Anticipate is a maintenance mode plugin that allows you to serve your visitors an alternate "coming soon" page while you work on building your website in the background. Once activated, all of your visitors will be sent to the Anticipate landing page. When logged in as a WordPress Admin, however, your normal theme appears, allowing you to build your website seamlessly in the background.
Now you can share your content with style. Featuring a crisp, modern design, TheStyle will give your blog that unique visual impact you have been looking for. With its unique jQuery-enhanced fluid width design, your posts always get displayed in a way that is best suited for your visitor's resolution.
Elegant Themes purpose with DailyNotes is to make the simplest and most elegant medium possible through which you could share your daily life. The theme is very minimal in its design, and has been trimmed down to the bare essentials. For anyone looking to create a fun and inviting personal blog, I'm confident that DailyNotes will serve you well!
SimplePress is a slick new page-based theme great for anyone looking to give their website a clean and professional look. The goal with this design was to make a business-oriented themes, but with a simpler and crisper aesthetic. The theme features a un-bloated bloated homepage with a beautiful javascript slider and clear hierarchy, as well as fully functional Blog and Gallery sections.
LightBright makes it easy to share your daily life through it's tumblr-style post types. Using the custom post types/taxonomies added in WordPress 3.0, the theme adds special integration options for photos, video, audio, quotes, notes and links. If you love the format of tumblr but don't want to give up the versatility of WordPress, this is the Elegant Themes theme for you.